Art in its various forms has been use to enhance the worship experience for hundreds of years. Members of Our Savior's Lutheran Church continue the tradition in praise and honor to God.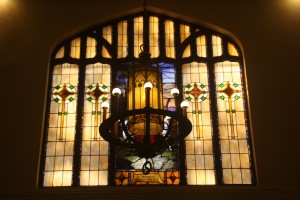 Behind the Altar Paraments

Altar
Bronze plaques on either side of the red door, the bronze cross, candlestick, missal stand, processional cross at the altar – all of which were designed, sculpted, and cast by Ray Fedde of the Fedde Bronze Works (A gift by Karen May and Ray Fedde)
Stained Glass in the Sanctuary
There are two very full stained glass windows of Christ the Lamb – one behind the altar and one that sends you one your way as you leave the sanctuary. The sanctuary also has various other stained glass windows of interest.
Narthex Painting – Christ at Gethsemane
This is an original oil on canvas altar painting for Our Savior's Lutheran Church done in 1925 by Knute O. Heggen (1866 – 1958)